Ahh, the silver screen: Taunting mistress who tells us stories of darkness, light and characters who are larger than life. This year (even though there have not been too many sexy mistresses) there have been a couple of sweet, romantic, and all in all wonderful gems. IX Daily presents: top movies of 2014 that has given hope to Humanity for the birth of the new year.
THE GRAND BUDAPEST HOTEL
The Grand Budapest Hotel is such a beautiful film. Wes Anderson truly, really is the master of whimsical; I am almost certain the world "whimsical" did not exist before him, and it was created to describe this melange of oddity and amusement. This film is so deliciously presented it is practically edible; the photography, the scenes are all works of art. And the story is what dreams are made of (if your dreams are of near-surreal characters who are so complex they might as well be caricatures).
QUOTE: "To be frank, I think his world had vanished long before he ever entered it – but, I will say: he certainly sustained the illusion with a marvelous grace!"
NYMPHOMANIAC
Lars Von Trier's Nymphomaniac is NOT what it seems. The film recaps the life of a self-proclaimed nymphomaniac, who tells her adventures in the form of a well crafted novel (chapters included). But this movie is not only a tale of orgasms, but it is also an orgy of deep emotions. My personal favorite is, CHAPTER FIVE: The Little Organ School (below) where Joe, the nympho, tells the story of three men in her life. She talks about them as if they were movements in a symphony: her symphony of Men. This scene is incredibly poetic and uplifting, and it epitomizes the whole movie beautifully, making us believe sex is truly a musical movement of two (and maybe three) bodies.
QUOTE: "Perhaps the only difference between me and other people is that I've always demanded more from the sunset. More spectacular colors, when the sun hit the horizon. That's perhaps my only sin."
FRANK
There are too many things to say about this film, (and none seem good enough), except the fact this may very well be a cult movie for the underrated, unemployed musicians). Frank is the story of a red-headed musician who joins a band whose main dude is an eccentric man-doll (played by Michael Fassbender). The amazing thing about this dark comedy is that the most emotional character is also the one whose expressions you cannot even see! Frank inspires that weirdness in all of us to come out, and if we all had Michael Fassbender's body we would also not care to be that fucking odd.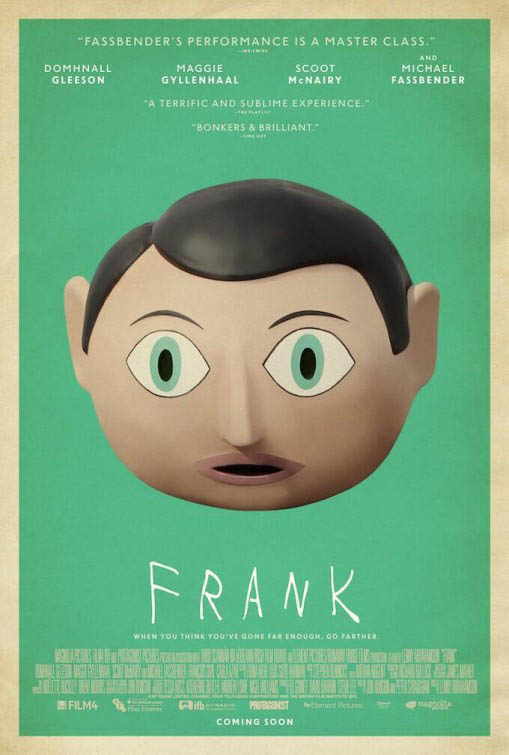 QUOTE: "Would it help if I said my facial expressions out loud?" (GET IT?!)
GONE GIRL
What the fuck, Ben Affleck? (…) Gone Girl is, undoubtedly, one of the most plot-thickening, Shakespearean-drama, inception ridden mysteries with a cathartic ending. This movie truuuuly is a portrayal how nothing is what it seems, and appearances can be deceiving. Well, take all of that and multiply by the birth of the Universe! You go for the sex and violence, but you stay for the psychological mess. The movie is supposedly about a man who kills his wife, a modern-day tale of a cliche that has existed for a thousand and one years, but just when you thought you knew everything, BAM! Your whole beliefs are shifted and you are left wondering, "am I even my mother's child?"
QUOTE: "When I think of my wife, I always think of the back of her head. I picture cracking her lovely skull, unspooling her brain, trying to get answers. The primal questions of a marriage: What are you thinking? How are you feeling? What have we done to each other? What will we do?" (And this is JUST the opening line)
OBVIOUS CHILD
So, there are controversial things to say about this film, since it is about abortion and all that. However, I think the most important thing to note here is that, while we do think it is sad in a way, Obvious Child shows a modern approach to this sensitive issue and it does NOT make us feel like shit about it, which, to be quite honest, is an interesting and fresh take on such a powerful topic. Throughout the movie, we feel that this is something that just happened, and she is just simply taking the best decision for herself; there is no remorse, or archaic judgment: we feel for her, we understand her and, we do not leave the theater offended and with a sour taste… Well done.
QUOTE: "Creative energy sometimes comes from the lowest point in your life. "

NIGHTCRAWLER
Jake Gyllenhaal is a disturbed god! The character of this film is a blend of Norman Bates on Psycho and Christian Bale on American Psycho! He is the dude who films accidents, and deaths of people and sells these tapes to the news. This guy is ruthless, aggressive, and completely delusional. I could write a whole book on his behavior and write it again; the film is truly a masterpiece of criticism of the 21st century exaggeration of news; an embellishment of facts and fantastic creation to propagate fear in the public; and how the public eats it up and loves it. At the end you are left questioning, who is worse? The "night-crawler" or us, the audience?
QUOTE: "What if my problem wasn't that I don't understand people but that I don't like them?" #noonedoes
So, there it is, la creme de la creme for this wishful washed up year. The best movies of 2014 which all have one thing in common: unique, disturbed characters with an intensity for living; people who know the dark corners of the human spirit and are not afraid to expose themselves this way, and make us feel something.