2014 is coming to a close. What better way to end it then look back at the threads we regret wearing the most. Here's our roundup of fashion & beauty trends that need to retire in the New Year. I beg you.
Tacky Designer Logo Puns
Please stop wearing ironic fashion t-shirts. Ill slander. Brawlmain. Ballinciaga. No. Just no. Not comfortable rocking high fashion? Ya well, cheap 'street wear' imitations aren't the next best thing. Believe me! Opt for a ridiculous O-Mighty tee instead. Anything really.
Fast Food Fashion
Nom, nom, no! Time to get a new IPhone case ladies (me included). Moschino, Chanel and followers alike just about abused all possibilities for this trend to last. Fast fashion at its finest. Not only was the micro-trend over publicized before the collection was even available to the public, but all fashion leaders flaunted their off-runway snags to the point of no return. Put it away. It's over. Bye.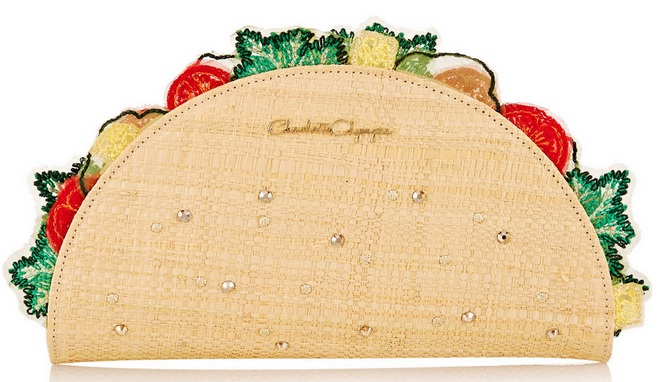 Eyelash Extensions
Quit lashing out. Our obsession with having long, lush lashes persists and more and more women are turning to this niche beauty trick to conquer this aspect of 24-7 beauty. The reality? Costly, unnatural & time consuming. Oh ya, and it's called mascara.
Overdone Dad Sandals



Birkenstocks, no problem, sport sandal albeit in bright colors & gems? Uh not like this, not like this. Unless you're some '90s God, flip flops will never be a style staple. Save that shit for the retirement home or a weekend of glamping with the girls.
Showing Your Panty Line
The totally visible panty trend takes away the worry of every morning outfit freak-out… Yes, but unless your going to a beach or you have legs like Karlie Kloss, let's just nip this one in the bud real quick. Go naked under a sheer crystal dress or wear clothes. The option is yours.
Floral Crowns
Year after year this DIY heartthrob returns. *Sigh* This trend should merely be reserved for six years old, wood nymphs and actual hippies who are old enough to remember Woodstock. No, Lana Del Rey's concerts aren't a legitimate exception. It's pretty much an epidemic at this point.
Flash Tattoos
We, too, loved them dearly (ok, we were obsessed with them), until we realized we are neither warriors nor princesses. They were simply overdone, sorry if you haven't had a chance to wear 'em yet. I blame Beyonce.

Normcore
I am not sure how this self-aware style blandness ever became such a raging phenomenon. I fully understand the allure of going back to the basics, but we don't have to emulate everything the Olsen twins do. Forget ill-fitting clothes and homeless chic, let's pump it up for 2015 and bring out the freaks. No more Nike socks, white Converse, high waisted jean shorts, head-to-toe American Apparel, Adidas sweatpants, etc.
Mullet Skirts
Ok listen, skirt should be all business or all party, all the time. The high low skirt, otherwise known as the mullet skirt (especially those that are sheer on the bottom and solid on the top aka the 2-in-1 skirt) have got to go.
The Longchamp le pliage bag
Stop being basic, start being cool.
The Blogger Coat AKA Shoulder Coat Cloaking
A-listers and bloggers have been wearing their coats as capes. A) Your at an event B) Aren't you fucking cold? & C) If you want a cape, buy a cape.
'90s Bullshit
I'm talking spider comb headbands, the dreaded floral & denim combo, body glitter, school girl skirts, tattoo chokers, ying yangs, etc. I'm all for '90s falling through the cracks, but some stuff is getting a tad ridiculous. You know who you are.
So thank you 2014 for ugly sandals, the '90s overload and basic bitch status. What other 2014 trends would you like to see retire in 2015?