I feel like I am entitled to call the readers of this "fine" article horrible because I'm horrible and it takes one to know one.
Today's post is about honesty because we're going to be very honest with ourselves about our guilty or perhaps not-so-guilty pleasures…
The same way I can admit that "Girls" is a show about every single annoying bitch you've ever known in your life condensed into 4 white girls but you can't stop watching because, I mean; I've gotten this far already so…
Speaking of television…
In recent history there have been a lot of great, quality T.V. shows that everyone is obsessed with. Excluding myself because I have this thing they call "A life" *flips hair*. I mean, I did the Breaking Bad thing;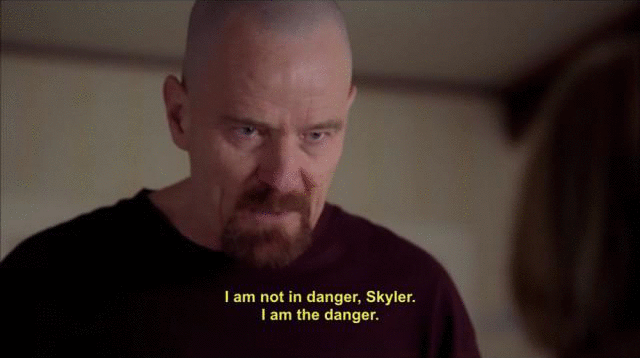 it took me 3 years but it's done.
Game of Thrones is amazing and everyone who says otherwise goes on about how "I'm not into fantasy and dragon shows" because they've never even bothered to watch an episode.
Then there's Workaholics
and Broad City
which are probably the most underrated/hilarious shows on television right now. Better than 2 Broke girls
because that show is fucking the worst the same way Two and a Half Men was NEVER funny EVER. My boyfriend and I have been binge watching 2 broke girls because we're masochists and I only have like, 3 channels.
THEN THERE'S REALITY TELEVISION.
Allow us to have a KUMBAYA moment
and admit to ourselves as a society in general…
WE ONLY WATCH REALITY TV BECAUSE IT MAKES US FEEL BETTER ABOUT OUR SHITTY LIVES FOR 1 HOUR A WEEK OR MORE.
I say WE because I do not want to single anyone out. THAT and my life is pretty shitty, TBH.
Deep breath in, deep breath out. See? doesn't that feel good? My rants are free therapy. Say "Thank you" because therapy is expensive.
Reality TV is like the comment section under Kim Kardashian's Instagram photos except that people aren't jealous of Honey Boo Boo.
Hear me out…
Here Comes Honey Boo Boo
I tried watching this show once. Fortunately there was a marathon so I was able to waste my entire afternoon watch about 17 episodes to give me a better idea.
This show literally took my brain and fucked it in the ass without permission. Honey Boo Boo Bill Cosby'd my brain and I will NEVER ever get those 4 hours of my life back.
The fact of the matter is that people only watch the Honey Boo Boo show to make fun of this repulsive, white-trash family. Am I being mean? NOPE because the mother is dating a pedophile who molested one of her daughters.
People are laughing at this family. Note: Laughing AT not WITH. Don't argue that you watch it because Honey Boo Boo is cute because she won't be in about 4 years when she hits puberty and turns into that green blob from Ghost Busters.
Intervention
Intervention was the blood that ran through my veins circa 2011-2012. This show is so fucked up… It's a show about addiction that ironically leaves viewers addicted to watching Intervention. I didn't really like the crystal meth or heroin addict episodes because that's a given.
I was into those episodes where people were addicted to huffing glue and shit. My favorite episode is the one where the girl is addicted to that shit you use to clean your keyboard.
Then they tried to take her cats away and she went completely ape-shit
. My reaction to that episode was exactly the woman in the middle of this gif:
I reiterate- I AM A HORRIBLE. TERRIBLE, BAD, VERY NOT GOOD PERSON.
The Bachelor/The Bachelorette
Dear contestants on this show. Thank you for admitting to yourself that you are THAT desperate and that any ounce of self-respect you had left in you was thrown out the window as soon as you hit "send" on your application email.
Also: you're only on that show because you want to marry a rich person.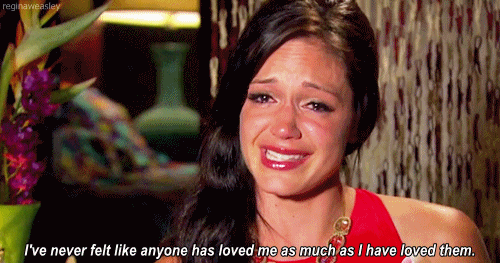 Why would anyone want to share a lover with 20 other people? Are his balls dipped in gold then dipped again in swarovski crystals? Do her breasts dispense a lifetime supply of Glenfiddich Scotch? Wouldn't the fact that every single couple that came out of that show ended breaking up in the long-run deter you from making the effort?
At the end of the day all you have is NOT your dignity because that exploded all over the pavement in front of your apartment building when you threw it out the window- Remember?
NO. What's left is the night vision footage of that time you fucked Juan Dickcheese in the hot tub- Remember? YOLO!
Put that on your C.V. because now you actually have to go to college.
Big Brother
I'd like to begin by pointing out the fact that Big Brother contestants are about 97% white. Basically: Big brother is a show about white people doing what we do best: Plotting evil and throwing people under the bus to propel ourselves forward in the name of competition. Alright, maybe i'm exagerating a little but look what Hitler did to Mussolini. Slavery for 300 years and…
Leave it to white people to bring the dramz to a sport like figure skating.
ANYTHING ON E!
Or anything produced by the Master of Trolls; Ryan Seacrest. E! is obsessed with turning irrelevant people into "household names" because it worked that one time with the Kardashians. Is this the channel that plays those Old rich hag happy fun time Housewives shows?
I feel like it does and it doesn't feel right.
My Strange Addiction
In the same vein of Intervention, TLC's My Strange Addiction is a show about random people who are addicted to random things.
Notable episodes are:
The guy who fucks his car
The girl who eats her couch
The guy who eats glass
The woman who drank her own piss thinking it would cure her cancer, SPOILER ALERT: It didn't.
the couple who gave themselves coffee enemas (the boyfie's personal fave)
so on and so forth- you get the gist.
This show was specifically created so that whenever you start feeling down about your current life situations you can sit back and think to yourself:
Well, at least I don't snort baby powder
TEEN MOM
UGHHHH this show. This show makes teen moms look bad. MTV is basically exploiting these young women who've made yet another poor life decision by agreeing to be on a reality TV show based on the fact that birth control is for assholes. You can't feel too bad though because in the end it was their decision to be on this show- their decision to put their insatiable thirst for attention before the well-being of their unwanted child.
but Cinderella never did porn.
THAT'S ALL FOLKS! I'm sure I missed a lot of shows out there based on the fact that I honestly don't watch THAT much TV to begin with so let me know which show you love to hate in the comment section below!
Read the rest of my rants here!