Every so often I find myself at Remmingtons, a sexy party hub that's the only place you can find male exotic dancers in the plight of downtown Toronto. A part of the Yonge Street strip club scene, Remmingtons is a refreshing change of pace (and scenery) from the big-time favourites like the Brass Rail or Zanzibar. What's great about this club is that it's not limited to a bunch of beefcake dancers with hard-to-handle shlongs (though there's a wide variety), I've also spotted a few boy-next-door types who work a pole better than Demi Moore in Striptease. If you're lonely, horny or simply in the mood to get near tea-bagged by one of the most attractive males in Toronto, I highly suggest you go there. The 6'4 men may seem intimidating, but the real fear lies in the sexually suppressed ladies who have a tendency to leave bite marks on dancers' buttocks.
One night I was dragged out to Remmingtons for a female friend's birthday party. I said "dragged out" because that particular night I was unusually not lonely or horny nor was I in the mood to get near tea-bagged. Either way, I made my way into the club, sat as close to the stage as possible, and sipped on a pint while glaring at several speedo-encased dongs shaking skillfully two feet from my face. I must have made the right kind of eye contact with one the dancers, since he came up to me after his set and told me that I looked like I needed a private dance. Yeah, he was hot, but I didn't have the cash for that, and me being the asshole that I am, decided to engage him in what turned into a twenty minute conversation (which I didn't remunerate and feel crappy about). Let's call this guy, John.
This conversation wasn't enlightening (eighty per cent of it was him trying to get me to pay for a lap dance), but it made some secrets of the stripping industry come to life. After a few minutes of prodding into his personal business (once again, because I'm a curious asshole), John whipped out his two cellphones—one white, one black—revealing that he's a younger, sexier and much more legal version of the double-life wielding, family man Walter White. The white phone was for his day job as a small business owner, the kind that dress in suits and teach small teams of associates how to sell a product that, to me, is worth little more than a yawn. The black one, of course, was for his secret life as a male stripper. Yes, he was dancing at a mostly gay male club for the fast cash, but he was also doing it for the ladies and keeping it secret for the excitement.
From this little interaction, I learned three things:
Stripping isn't just for those who live and breath the bump-and-grind
Sex is for everybody, from the pot smoking "make love not war" hippie character to the conservative pentecostal pastor who clears his web history suspiciously often. Sex rules us, whether we want it to or not. With a sexually charged species like ours, erotic entertainment naturally sprouts up—the striptease, for example, dates back at least 400 years. The misconception here is that people think strippers tend to be either shameless junkies looking for easy fast cash or sex addicts. Surprise! They're not. This John guy that I met, an intelligent, degree-rearing businessman by day and naked pelvic-thruster by night (put this way, aren't we all?), was looking for a job he'd enjoy as much as its payout. Believe me, there are more like him out there.
Strippers actually really like their job
If you think about it in retrospect, this one should be obvious. John especially loved it. He loved ladies' night and being aggressively clawed at.
Enough said.
Living a double life will always be exciting for us
A quick google search on "double lives" gives you a good sense of how many people have tried to lead them and failed. At the same time, there aren't nearly enough stories exposing them, so I'll go ahead and assume that the majority of people doing this don't get caught. Although I don't have any solid psychological evidence (someone do some research on this already), I'm pretty sure that having a secret life on the side is a universally enticing concept. After telling a bunch of my friends this same story, I found out that most of them knew somebody within two degrees of separation that was pulling off some sort of sexy Catwoman stripper/ escort service by night and returning to their ordinary Selina Kyle persona by day. I wouldn't be surprised if I had a couple close friends into the lie.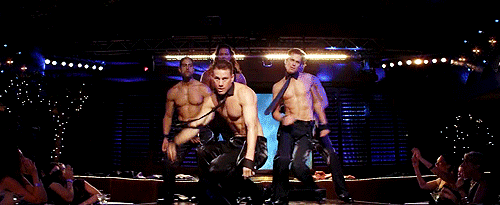 The point of my little anecdote is to show you that the likelihood someone you know is into some sort of highly sexualized work is off the charts. You never really know what anyone's up to after hours. I'll finish off with Sarah Tressler, an accomplished journalist and professor, who lead a double life as a high-end stripper until she was exposed by a local paper and subsequently fired from her reporting gig. What's not cool is that she was fired for performing a completely legal job. What is cool is that Tressler's the type to see a silver lining.
"I used to be a stripper/ reporter/ professor. Now I'm just a stripper/ professor, but I don't really think that's too bad," she said.