If you live in Montreal, you've probably watched at least one music video from La Maison Bald Man.
Xavier Cantin-Lemieux is a young visionary from Montreal who is best known today as a music video director for many young emerging talents. We've covered many of his videos on the site for acts such as Grandbuda, FullCourse, Hanorah, Casey Burns and Uzuazo jus tto name a few.
We asked if he was down to do a lil' Q&A and he delivered. Scroll through below and get to know him a bit better.
How would you describe your work in under 140 characters?
There is still a lot to be accomplished to define my "work", but I'm obsessed with 80's imagery, neon lighting, old school cars and incoherent clothing style.
What was the last music video you watched?
I watch a lot of music videos to get as much inspiration as I can. But I think the last one I checked was "Get You" by Daniel Caesar. It's a masterpiece with a really simple concept. The cinematography is really raw and intimate. It's a beautiful visual experience. I don't wanna tell you what to do, but go watch it now.
What was the first video you made and how has it shaped the way you go about your process nowadays?
I've been making video since I was like 5. I was obsessed with old horror b-movies that my mother didn't want me to watch. I was shooting alien invasion flicks (with aluminum pie plates as saucers) and weird Friday the 13th lookalikes in the woods with my friends on VHS, doing the editing directly in the camera. I basically never stopped shooting and I was eventually able to make a living out of it
Do you have anyone you look up to in the music video world?
Yes, a whole lot of people. Production companies like BRTHR who made the music video for "In the Night" by The Weeknd, or CANADA who produced the video for "The Less I Know The Better" by Tame Impala. I also really get inspired by what Montreal directors are doing. People like Jodeb, Romain F. Dubois and Baz to name a few. I don't even know these guys personally but they are a true inspiration for me.
Inspiration could come from a lot of different places. Are there any recent non-music video related pieces that speak to you?
I watch tons of films, then I like building mood boards from screenshots to plan my composition and cinematography. My biggest inspirations are old 80's and 90's Hong Kong action films, featuring impossible shootouts under green and red neon lit streets, over the shoulder shots and that beautifully raw 35mm film look.
If you could pick a gif that speaks to you, or inspires you in any way, what would it be?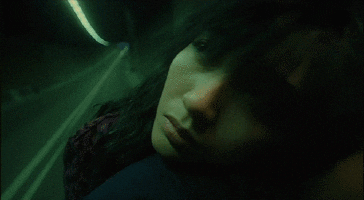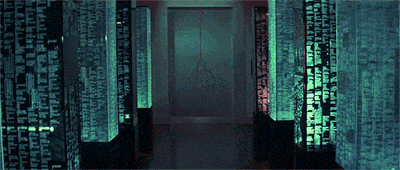 Canada has got some amazing musical acts to choose from. Do you feel as though the local scene has given you the chance to be yourself when making videos?
The local scene here is just amazing. There is so much talent in Montreal that I'm starting to give my business card to strangers in the street cause you never know. But seriously, all my clients trusted my vision and challenged me to go further. As I strive to make videos that live up to their talent, it gives me the opportunity to get better and better with each new project. Working with such talented individuals gave me the means to develop my production company La Maison Bald Man. Since then, everything as been exponential since it's a huge team effort. At first it was only me and my all time partner Catherine Ducharme, doing literally everything with no money at all. Now we're expanding and pushing our creative vision further.
If you could pick any current musical act to work with, who would it be? and why?
Every single weird eastern Europe techno-rap (or whatever) acts such as Tommy Cash and Little Big. I'd also like to work with Tinashe, because who wouldn't.
Do you have a go-to website, blog, tumblr or subreddit ?
Anything from Nowness and I-D. But also Hotnewhiphop.com to try and keep up with them Gucci Mane mixtapes every week.
What can we expect from you in the near future?
I'm constantly evolving and learning from the great. As I said earlier, founding my production house La Maison Bald Man with my partners has given me more tools to accomplish my goals. It's a blessing to have a whole team working together to get there as well. We are currently working on an interview based web-series with 2 episodes already out, as well as developing a clothing line. All the while, continuing producing music videos like crazy (I don't sleep anymore please help). We recently won our first MuchFact award grant, so expect something big in the next few months.
Follow us on Facebook and Instagram @maisonbaldman for updates!
# Main photo courtesy of La Maison Bald Man