Eros is a touring event that will combine works by international and local artists.
These talented artists will be touring to showcase their art works, visiting Toronto's 8Eleven (December 16th) and Montreal at Projet Pangee (December 16th), and Godberd (December 22nd) with performances by Santiago Tamayo Soler, Marie Segolene, Vicente Ugartechea, Catie Rutledge, Holly Timpener and more.
Inspired by the history of the Cabaret Voltaire, and the contemporary performance evenings such as NYC's Incarnata Social Club, this simple informal event aims to provide accessilibity to a variety of performance asethetics while bringing together international and local artists in an environment of open exploration.
It just sounds fantastic to say the least. In order for us to get you prepared for their shows, I decided to explore their background and overall inspiration when it comes to the work. Let's dive into their world and get to know as many of them as possible, continuing with Marie Segolène, through her bold and beautiful performance art that pushes boundaries.
We asked her to answer a lil' Q&A for this In The Studio series leading up to the first date of the shows, and she delivered. Scroll through it after the jump.
Exclusive photos from Marie Ségolène and Vicente Ugartechea, Spank, 2017
How would you describe yourself under 140 characters?
"Mary, Mary, quite contrary, how does your garden grow?"
Describe to us what a typical day in your life looks like?
I like toast with apricot jam in the morning and working from my bed til noon.
I like a glass of wine in the afternoon followed by a coconut milk latte. On Thursday evenings I sometimes go to wine tastings near my apartment and listen to them describe the compositions and tastes of each wine to me, which feels like a poetry reading that awakens the tongue.
I found out that on Friday nights there is a weekly Honky Tonk Happy Hour at the Empty Bottle, so sometimes you'll catch me in my western wear two stepping with a cowboy or three.
Truthfully, I spend most of my time working off my laptop in bed, or running errands.
What is your favourite medium to work in? Performance? Video? Installation? Sculpture?
Everything seems to be interwoven for me. Bookmaking is my favourite part these days! Its long and meditative and its intimate and controlled. On the other hand, I think I never feel more vulnerable and fulfilled than when I am performing in nature.
Basically, its about the process. Every step has its highs and lows. I am constantly thinking of how I can translate an experience from one medium to the next. How do you turn a book into a live performance?
If you had to pick a gif that represents your art, what would it be?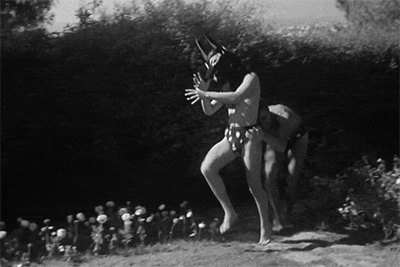 What is something people would be surprised to learn about you?
That I am a huge country fan and you can probably win my heart if you play me Sangria by Blake Shelton. Or wait, did y'all know that already?
Marie Ségolène and Vicente Ugartechea, Scythe, 2017
How do you translate topics such as Personal Mythology, Rituals and archival through your art?
I am interested in fragmentation as a radical methodology that challenges patriarchal narratives and capitalist structures. Nothing about my work is linear. I started revisiting rituals because I grew up in a conservative Catholic household and rituals were everywhere! From the ways in which women interact with men or serve food, to the rituals at mass, these gestures became the framework through which I built my identity.
Fragmenting a narrative is a way for me to empower myself through the stories I was thought about history, womanhood and violence. I insert confessional excerpts and precise quotes from songs, novels or scientific facts, between lines of ancient writings. I embody tableaus that come to me in my dreams or as poems, and playfully explore the limits of video projections, reading and drawing in live performances that invite the viewer to experience a form of intimacy or vulnerability with me.
Marie Ségolène, Remanence from a Failed Performance, 2017
What can someone expect from the Eros show coming to Montreal?
I am particularly excited about how the performances are going to morph through their many iterations. We have two dates in Montreal, on the 16th at Projet Pangee in the Belgo, and one the 22nd at a secret location that will be happening from 12-6am.
Both shows are going to be raw, provocative and political. You can expect to be challenged but also to witness some of the most intimate and powerful work I've gotten to see in a while.
Lets just say its not for the faint of heart 😉
Any upcoming projects you can tease with us? What's to come?
I just finished three small self published books in the past month (which coincidently I will be selling at the events 😉
I am working on a new series of photographs and paintings, which I will also be assembling into book form in January. Other than that, I am working on expanding this tour to Europe by the summer !
——
http://www.mariesssegolene.com
Learn more about Pangee:
Learn more about 8Eleven: