FIELD of PONIES, one of our fave labels based in London has always had strong ties with Montreal.
They just dropped a little collection with some exclusive items including hoodies and t-shirts, currently available at the Phi Centre boutique in the old-port.
"Working slowly and mostly by myself allows me the freedom and space I need to create original ideas, which I feel is getting lost in the actual fashion system"
They're overall ideology surrounds the idea of embodying a post-apocalyptic take on fashion. The brand uses current street wear trends to distort our reality and project an aesthetic that is both distorted and humorous.
We decided to send over a few Q&A and they delivered. Scroll through the interview below and check out all the looks after the jump:
How would you describe Field of Ponies under 140 characters?
An art based, hand crafted, deranged street wear brand of feral looking sweatshirts and derivatives.
Describe to us what a typical day in your life looks like?
I wake up early, get my kids ready for school then walk the dog whilst establishing my intentions and goals for the day. By the time I get back to my work place I put music on and get shit done until mid afternoon. Routine is important for me because it gives my scatty mind a structure. My brand is a lifestyle, it's pretty much at the center of all my thoughts and dictates what I do, but hanging out with people or going to concerts or parties is also a big part of it.
Do you have a usual process you go through to get inspired for a piece?
It always starts with fabrics and textures for me. Once I establish my materials I can think about the actual looks they would work best for. The process is very organic. I don't sketch, I pin fabrics to my mannequin, study how they work next to each other and create pieces this way. I work really fast and try to not think too much about what my hands want to do and I surprise myself this way.
If you had to pick a gif that represents your clothing line, what would it be?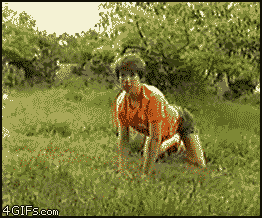 You have close ties with Montreal, what is it that keeps you inspired from the city?
I have been in London for 17 years but all my family is in Montreal so I come back often to visit. There is a freedom in Montreal that is probably only noticeable to people who are seeing it through foreign eyes. I love its weirdos basically.
What is something people would be surprised to learn about your brand?
I'm doing everything myself including pattern cutting and sewing. Sometimes I work with small factories in London but pretty much everything you see has been through my hands.
What's so special about your lil collection now available at Phi Centre boutique?
It's a cute collection of my most basic pieces. There's hoodies and long sleeves t's in organic cotton with print or applique monster faces. It's all in black and white. I made a few more experimental pieces with a sweatshirt and a t-shirt all cut up and re-stitched into a new silhouette. I also have monster socks and hand painted chokers. I love the Phi Centre as I identify more with the art world than the fashion one so for me it makes sense to be stocked there.
Any upcoming projects you can tease with us? What's to come?
I'm working on a new drop of ultra plush, pastel goth, tracksuits. I am also working on my first zine, it will have exclusive content, stuff that I shot over the past 12 months that I care too much about to give away to magazines.
#