Set in a mystical all-inclusive resort on an unnamed carribean island on the brink of revolution, the solitary Mike (Ludovic Berthillot), a giant-slab of flesh and muscle, arrives for vacation. The attentive staff, a host (Sylvio Arriola), the maid, Esmeralda (Yaité Ruiz), and a salsa teacher (David La Haye) are immediately fixated on him. After saving a large octopus tangled in a fishing net, Mike is visited by a divine message from the soft-bodied god, their fates are forever intertwined.
All You Can Eat Buddha is the strange, erotic and magnetic feature-fiction debut from Quebec filmmaker Ian Lagarde. Probably best known for his work as a cinematographer on films like Vic + Flo Saw a Bear, has create a bonkers and horrifying spiritual journey that will be unlike any film you will watch this year.
Ian Lagarde spoke to IX Daily from Paris. Scroll through the Q&A after the jump.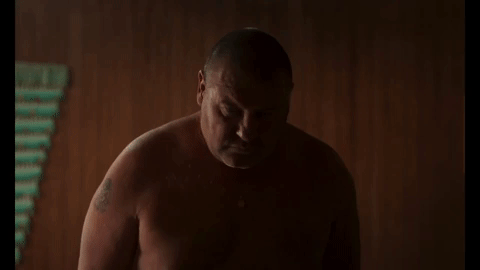 What inspired you to make the film?
I was having a gringo day in Mexico. That's not the way I travel at all but, on that day a friend of mine and myself went to an aquatic park around Tulum which is an all-inclusive resort where you eat, play and drink. We were there being stupid and being gringos and I was reading Siddhartha by Hermann Hesse. It just struck me, you could transpose this quote-unquote noble quest for illumination in a trashy setting like a resort. Something really clicked with me. You a lot of these flashes all through your life, I don't know how many ideas a day or a week you get, but this one stuck. And I felt that the profane kitsch of the all-inclusive resort would be a really nice contrast with the spiritual kitsch of Hermann Hesse.
The film clearly has roots in the social satires of the 1960s and 1970s, inspired by movies from directors like Bunuel and Pasolini. What motivated you to use that aesthetic?
I wasn't trying to pay homage to those films at first but it came naturally as I was writing the film. It's a small distinction but it's still there.
You realize it feels like something you've seen before and then you understand your influences. As I was writing, I realized that Mike has something akin to the vibe of Teorema's main character. He comes into people's lives and basically catalyzes everybody's instincts. That's something that wasn't conscious but that I realized as I writing.
What I did consciously was the tone, the ideas and the style of the film. When I first found the resort where we'd be shooting, it felt like a resort that needed to be "zoomed." In the script it was all about hallways, like The Shining, but then when I saw these bungalows in separate places of the resort. "Fuck it, let's just use zooms" and make this a very objective yet surreal mood. Something that would be maybe closer to Barry Lyndon. Then Bunuel and Jodorowsky are just influences that come naturally, especially if you are talking about mysticism and social cannibalism. One of my favourite parts of the film is the octopus, you are clearly using practical effects, how did you actually put that together?
IL: It was out of the question that I would have this as a CGI effect. There's something more tactile to practical effects: the actors can actually interact with it, the light reacts to it and the water too. From the start, Bruno Gatien, who is the makeup and effects guy for the film, took 95% or even 100% of his budget to cast the octopus in silicon and also add a little bit of animatronics. The tentacles themselves move with a pulley system, so there were weights and pulleys underwater that people off screen would operate. It was a complicated setup, not mentioning the fact it had to get through Cuban customs in three gigantic boxes.
We had to find a beach where the waves weren't too strong and where we would be left alone. A lot of people thought it was a real octopus actually, even on set some people were like "is that real?" As a prop not even put into the context of the movie, it already exerted a huge fascination with people and with me as well.
The octopus itself is like in Ovid's Metamorphosis, when God comes to earth and takes the form of an animal to infuse mortals with the divine. I needed an animal that could be seen as mystical and sensual. The octopus was the perfect animal for that.
Did you purposefully build the film's eroticism through transgression of taboo?
It's funny you are talking about transgression which is basically the central idea behind George Bataille's, On Eroticism. There's incest, death and I forget the other one… I don't know if I went that far in terms of transgression. In something like Caligula and maybe In The Realm of the Senses, there was a sense of suggestion, both in eroticism and violence that felt right thing for the film. It's not that I'm a prude, I just like the fact that the most graphic images came from Esmeralda's drawings. I don't know if it's that transgressive. Did you see a lot of transgression? The drawings stood out for me, even though you are not actually showing that much. The drawings have influences of bestiality and blasphemy. They look like fertility sculptures. It's up to the audience to fill in the gaps with our imagination. The fact that Mike's body is literally decomposing throughout the film, he lives between life and death, that touches on the transgressive elements of eroticism as well.
There is definitely an interplay with Eros and Thanatos, the most classic interplay there is. That's there for sure, to me. I don't know if you've ever been to a resort?
No, I haven't
If you are going to write about an all-inclusive resort you might as well go. I had to do research and everybody was like "oh ya, easy research." I was like "No! It wasn't enjoyable at all." You are constantly under surveillance, like a panopticon. Wherever you go the guards, well the staff, are both guards and caretakers in a sense, serve as "des balises." They limit people's impulses and energies, they basically contain people. For their own good but also for the good of the rest of the island or the country.
I like the fact that while tasked with surveillance, Esmeralda develops an erotic fascination with Mike and the only way she can communicate it is with these drawings. The more that she watches him, the less it becomes about surveillance and instead it becomes voyeurism and affection. Wherever you go to one of these resorts, you get a note from the maid. The first time I saw one, I was destabilized because I never had a maid of any kind, so I was like "what the fuck?" and the note itself is super intimate. It's a really weird feeling, it's super fake but super warm.
#
All You Can Eat Buddha opens with French subtitles at Beaubien on February 16th and with English subtitles at Cinema du Parc on February 23rd.