You've probably sang along to one of their hit singles, this is NEW CITY.
The trio from Toronto have been making the rounds, with a couple of addictive singles under their belt, and preparing to tour endlessly, starting with their first festival appearance this summer: Festival D'Ete de Quebec.
With the release of their latest single "Getting Closer" accompanied by dope visuals, we couldn't be more excited for them to pierce through all of the noise and seep through our senses. The video was directed by Steven Meyers who used a techno dolly technique to superimpose and layer shots seamlessly. The video basically represents the group's journey, from writing, producing, rehearsing and performing, represented through a repeat cycle, until they finally make it.
The group will be playing Sunday July 8th, at the FIBE STAGE for the FEQ, and you definitely wouldn't want to miss out on this one. We took the time to send them a lil' Q&A to tease us all in anticipation, so watch the video for "Getting Closer" above, and scroll through our interview after the jump. How would you describe NEW CITY using emojis?
Describe to us what a typical day in NEW CITY's life look like these days?
Everyday is different for us. Which is how we like it! We're never not making music so that's always in the day somewhere. We usually don't go more than 2 days without all being together. Gotta stay in the vibe u know.
Do you have a usual process you go through to get inspired to make music?
Inspiration can come from anywhere. Everyday we share and discuss any music we discover or are inspired by (old and new music). Even if it's one melody or a certain feel. Everyday life events can sometimes be all you need too..
If you had to pick a gif that represents your sound, what would it be?
We actually did our own set of GIFS that will be coming out soon so it's gotta be one of those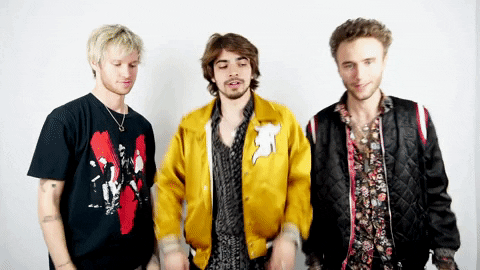 Your latest single "Getting Closer" got the visual treatment. Who came up with that dope concept?
The idea was to capture the journey and somewhat constant cycle we have had since becoming a band. From starting in the basement apartment to rocking the songs on stage.. we're always getting closer to our dreams as a band. We worked with Steven Myer who directed and really helped bring this concept to life.
You're signed under Timbaland's Mosley Music Group imprint in the US, what have you learned so far in working with Timbaland?
It's all about the music.
What is something people would be surprised to learn about you, as a group?
That all 3 of us, regardless the label of what we do in the band, we're all contributing to all angles of NEW CITY. Whether it's drum sounds to lyrics to fonts we use on posters.
You're playing Festival D'Ete de Quebec. Is there a difference in vibes between the crowds in the US as opposed to crowds in Canada?
We've only played a handful of shows as a band period. A lot of people are caught off guard by that haha. So we're just excited to play everywhere.
What is your favourite thing about music festivals?
The Festival D'Ete is technically the first one we'll be playing at.. but I love how diverse the lineups are. Lots of great artists that play totally different music. There's always something for everyone.
What is your least favourite thing about music festivals?
Haven't really been to many!! No complaints here haha
#