Hubert Lenoir is a force to reckon with.
This young talented emerging artist has been making the rounds of the interweb with their first solo project and we just can't get enough of it. What caught our attention when DARLÈNE emerged online. It's a multidisciplinary project composed of a novel by Noemie D, and a concept album by Hubert Lenoir.
It took less than a year for this project to come to life, revolving around concepts of emancipation. love and swimming. The project got elevated when their friend Gabriel Lapointe jumped on the bandwagon to produce a short film and illustrations to accompany and complete the project.
We might even call this a Gesamkunstwerk.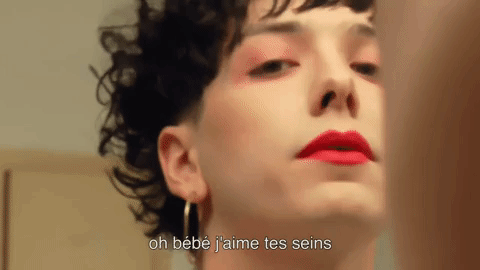 It might be impossible to dislike the music Hubert Lenoir makes. Contemporary pop with eclectic chords influenced by jazz and psychedelic rock sounds. If you are into pure blissful music that will make you feel good and emotionally strike you out, this is it.
Hubert Lenoir will be playing Festival D'Été de Quebec on Wednesday July 11th and we wanted to know how they felt about playing a show in their hometown of Quebec, a place where they grew up shunned from the norms of society. We decided to hit up Hubert Lenoir through text message, so we can get to know them better and have them speak about their journey.
Click play on DARLÈNE below, and scroll through our candid convo after the jump.
Catch Hubert Lenoir at Festival D'Été de Quebec on June 11th, you won't want to miss out on this one.

Main photo taken from Sors-tu.ca