Meet Mona.
A Montreal-based singer songwriter who is about to make the rounds of the interweb. The whole project is eye-catching and blurs the lines between conventional social constructs to make music and visuals that will just cheer everyone up no matter what.
It won't be hard to get attached to whole Mona persona, and to watch the video for "Hi, I'm Mona" on loop as the song is extremely catchy, and the video, which was directed by mona's little sister Alexia, is equally infectious.
mona was born because i told a girl i loved her but she didn't say it back so i created this world to cheer myself up – at the end of the day, i hope u smile. thats all i want.
I decided to do a mini Q&A so we could all get to know Mona a bit better, and they delivered. Scroll through the whole thing below, and watch the video above.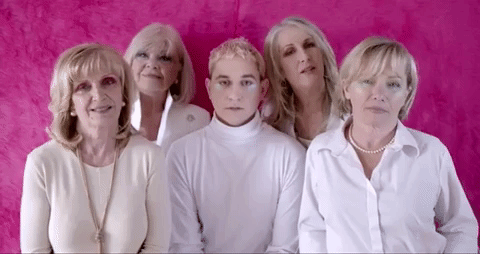 How would you describe Mona under 140 characters?
Hmm, like a lost member of the backstreet boys who loves penne rose and just wants to make u smile. Is that chill?
Describe to us what a typical day in your life looks like?
Usually I go to hot yoga. I'll sit in my car for an hour recording ideas into my phone. Then I'll check what JC Chasez is up to on IG and make penne rose. Oh and recently I've been taking a lot of baths. I like it. I make the water so hot.
If you had to pick a gif that represents your music, what would it be?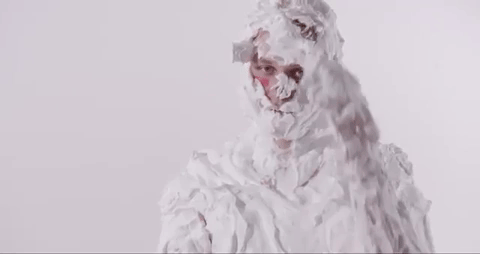 Talk to us about your debut video, how long did it take to put together?
i actually hired a bunch of dancers for the video but never really had an idea so i just asked my little sister what she would do because she's weird and i'm weird…i kept the dancers because they were already payed for lol also the dude with the moustache is my best friend now.
Any other local artists or creatives that have inspired your work in some shape or form?
Yea. This dude Dennis who hangs out with my friend Bravery. Dennis makes the funniest faces. I'd link his IG but he doesn't have one. Such a Dennis move.
Any upcoming projects you can tease with us? What's to come?
Just tons of east russian dubstep music for 2-5 years…. Jk jjk
Yeaaaaa.. so much to come! I'm releasing a very personal song next week. It's cute.
#
stream "Hi, I'm Mona": https://fanlink.to/hiimmona
subscribe: http://bit.ly/subscribemona
instagram: https://bit.ly/2txL9T2