Feast your eyes (and ears) on this one.
Museum of Symmetry is the explosive feel-good alter-universe of cartoonist and animator Paloma Dawkins—a room-scale VR experience with 2D animation in a 3D playground as never been seen before.
This young illustrator, who graduated from the prestigious NFB HotHouse program, has moved from comics and animation to video games to which she applied her fantastic landscapes and adorable creatures to create a surrealistic experience brought to life by the NFB and the rising Montreal's studio, Casa Rara.
We got the chance to ask a few questions so we could help you all immerse yourselves in the ideas behind the project and potentially get the game which is available on Steam and Viveport platform.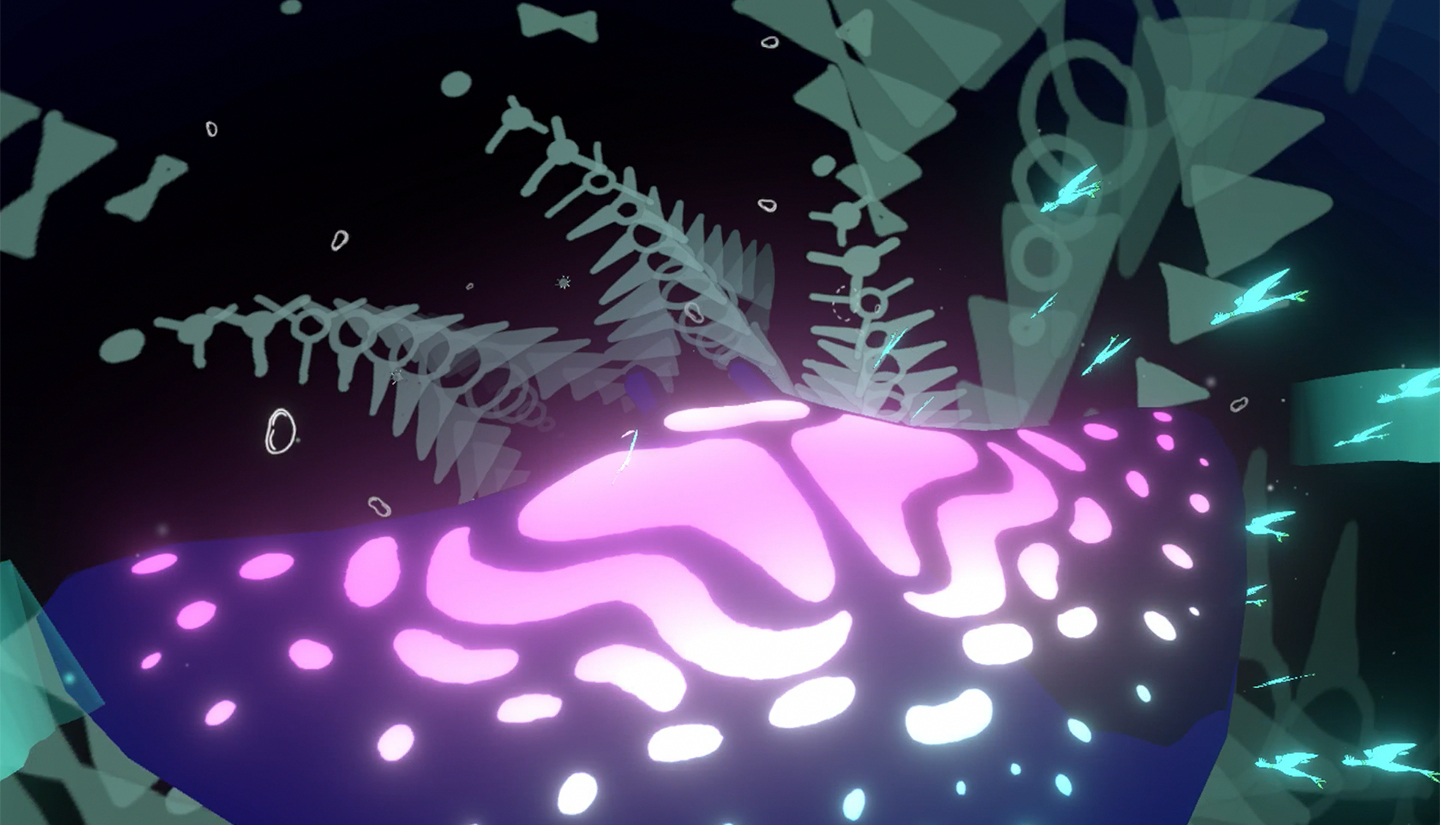 How would you describe your world under 140 characters?
I only need like 6 or 7 characters to tell the story. It's not much of a story, more of a series of colorful landscapes designed to elicit feelings in the player

When did you start getting involved in video games, coming from an illustration background?
Well I've always loved drawing since I was a kid but I'm kind of a minimalist/poor person and I could never get my hands on the right supplies or have enough space to store them. I started drawing digitally pretty much always using a tablet and a desktop computer because it gave me so much control over the result and virtually unlimited storage. I'm more of a quantity makes quality kind of person.
I wished I could just have everything in one portable device though, so I saved every penny for a year and bought myself a Cintiq Companion (which costs as much as a shitty car) It changed the way I worked and allowed me to draw on the road, so I went to Toronto and did a workshop in game making at the Hand Eye Society and I made my first game 'Dream Warrior'. I've been making games on the road ever since!

If you could describe your art using a gif, what would it be?
Favorite artist, Cyriak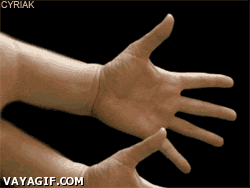 What's a typical day in your life look like?
I start with a maca smoothie! For the libido. Then I draw for a while. When I get bored of that then I'll hit up a museum or park or something, always with my sketchbook or iPad so I can draw what inspires me. Then I'll either get dinner with friends, go to some art opening or just go home and watch/make cartoons.

In what type of circumstances were you when you came up with Museum of Symmetry?

I'm always kind of inspired by the projects that artists never got a chance to do but have talked about in interviews and stuff, like Jodorowsky always wanted to make something that'll hypnotize and enlighten people. Basically I wanted to make Museum of Symmetry to be like that. Ashley Opheim and I designed an experience that'll balance you out using color theory and geometric shapes. I don't know if it enlightens people, but people have reported feeling relaxed after playing so at least its doing something.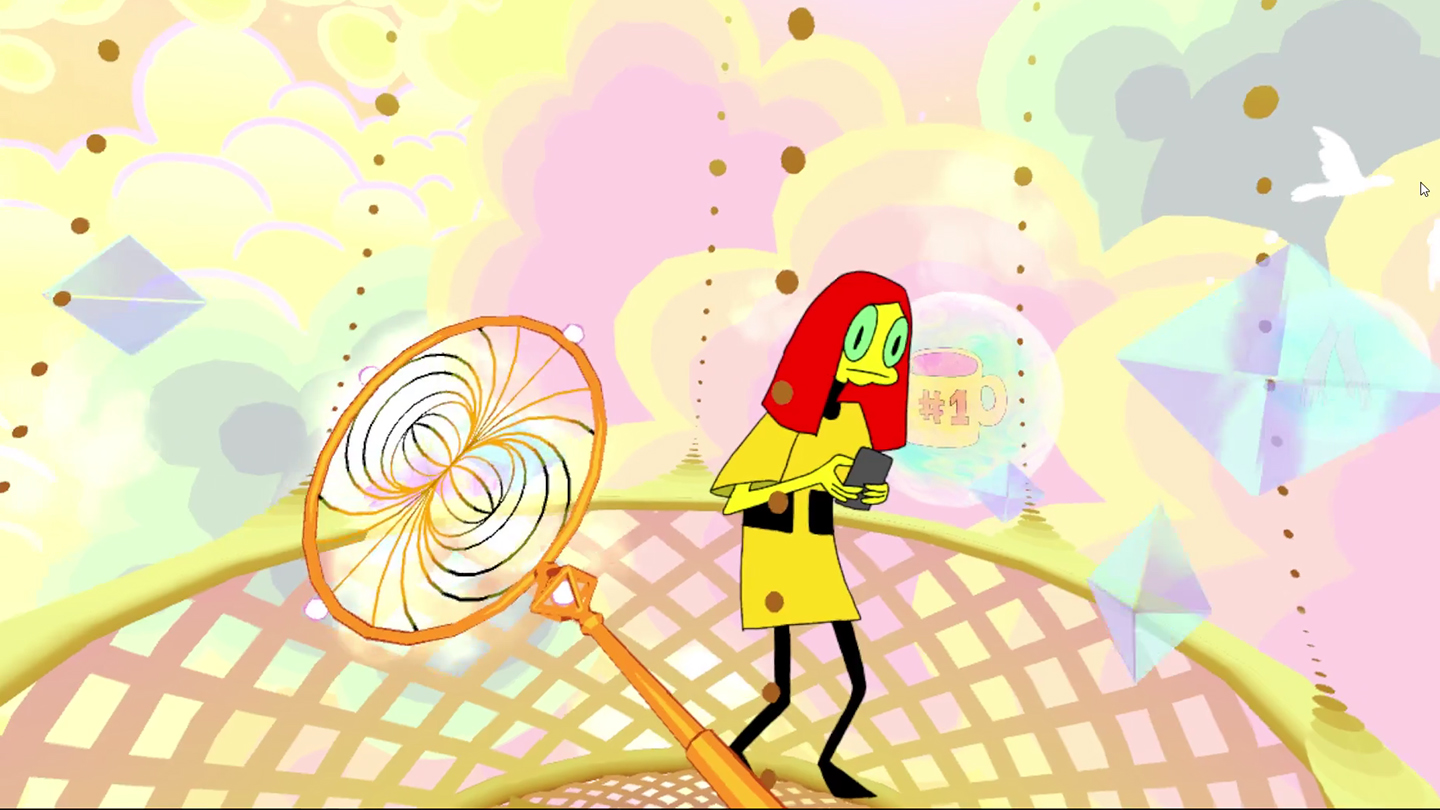 Could you describe the process you took to produce the work we get to see in Museum of Symmetry?
The backbone of the project has always been the same – its a journey through the elements. You start in fire, go to air, earth, water then ether. Each elements get a color and a few feeling keywords. Each artist just went off to interpret as they wish. Ashley would write poetry about it, Caila Thompson would make music about it, and I would animate about it (TVPaint -> Unity). We later added characters and assigned poetry to them and gave them a role and voila, easy as pie 😛 jk, it was hard and we iterated a lot, but it was a fun process!

Positivity is the main theme throughout the experience. What inspired you the most?

Actually I'm not a big fan of positivity tbh, but sometimes a little lol. Almost every character in my game is having some sort of crisis but they go through a transformation, which is what it's all about. We aren't all going to see the world the same way. Like the 'Garden' level for example: In one part of the Garden, watering the plants helps the character, in the next part of the garden, watering the plants makes the character angry and sad. It's all about perspective.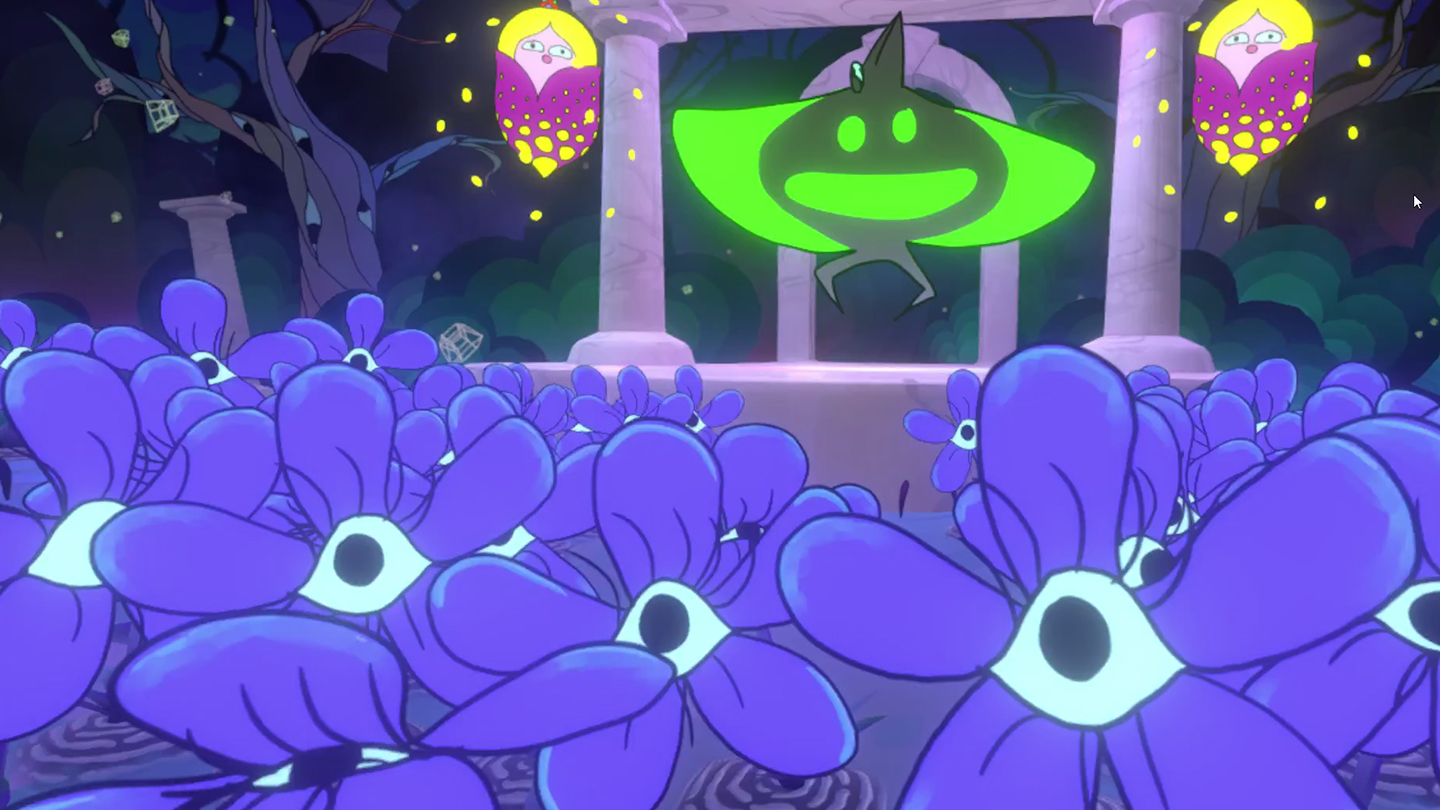 What are some of the reactions you've gotten from the project? How did it make you feel?

People generally like it!!! Kids especially, it's really sweet. But it's more interesting when people don't like it. In the early stages while I was playtesting it at the NFB, someone from senior management at the NFB got angry and stormed out of the VR lab cursing something about people isolating themselves from reality. A lot of the older NFB crowd think VR is a symptom of a sick society, which I kinda agree with to an extent. I think society has taken the wrong direction at some point but VR isn't the problem. Being in VR is like being in someone's dream, there's nothing wrong with that.

Any upcoming projects you can tease with us? What's to come?
Right now I am working with Ken Perlin at NYU's Future Reality Lab on their VR project called 'Cave'. After that, I'm not sure. In the words of Natasha Bedingfield "Today is where your book begins, The rest is still unwritten"

#
Read more about Museum of Symmetry right here
Get the app right here