Our eyes are all over Giulianna Grilli, a new discovery we made just recently.
This multi-talented fashion designer has a significant educational background to back her up in her journey. Half-Canadian, and other half European, she dwelves in the realm of new-wave fashion with a meaning. We decided to hit her up to find out more about her and she delivered. Scroll through her latest lookbook and our Q&A below.
She's one to watch.
How would you describe your ideal fashion world in under 140 characters?
My Ideal Fashion world would be a place where people can truly express themselves without any external style influences. A place where people can inspire themselves with the smallest details around them. I believe that true fashion is an expression of oneself… however because of societal influences nobody is able to truly wear or express themselves in the way they want to. This utopia would allow fashion as a whole to flourish. Fashion at the moment is becoming stagnant and I believe with imagination and experimentation it can change.
Describe to us what a typical day in Giulianna's life look like these days?
These days I am constantly on the hunt for new opportunities. I recently graduated therefore I am constantly on the lookout for a job or internship. However, I am also working on my craft. I am constantly researching, developing new shapes, new silhouettes, creating new patterns and sowing. I spend most of my time roaming through the streets of Florence searching for inspiration and opening my eyes to new possibilities.
Do you have a usual process you go through to get inspired to make fashion?
There are standard processes to go through in order to create something that will appeal to a specific audience. However, I do like to break some rules. I often dream about ideas and then come up with a way to make it a reality. At the same time, I like to roam around, travel, watch shows and meet other artists to get inspired. I was born a Catholic however I am not practicing at the moment but my best ideas come to me when I spontaneously roam into a church and take a seat. Ideas seem to flow into my mind instantly. It has become a ritual of mine to just go inside when it is empty to just think. I have two types of mindsets that usually compete with each other. This is because I not only think creatively out of the box but I graduated with a fashion marketing degree which also means I also pay close attention to economic factors. I love creating but at the same time i need to reach a specific target marketing/ audience in order to sell.
If you had to pick a gif that represents your inspiration/style, what would it be?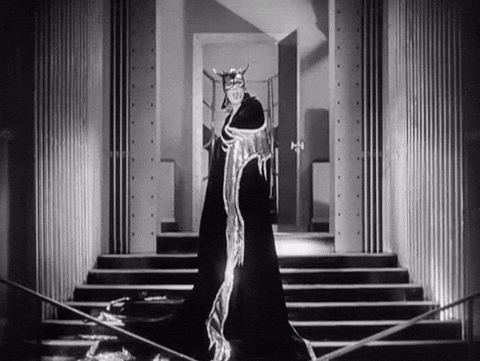 It is not because of the movie Madam Satan but because of the gif itself. I like the over the top movement, stage and costume. The black and white art deco background with the mask and cape would be how i'd like to start off my day every day. It seems like she is not taking life too seriously and likes expressing herself in her own unique way.
You have an extensive amount of educational background in fashion, what would be the most important aspect you've learned from all your different accolades?
The most important aspect I have learnt about fashion is that fashion is not a joke. No matter which programme I was in, I had to put in 110% effort in order to come out on top. You can be the most talented person in what you do but if you do not put in the effort and time you will just sink to the bottom of the totem pole. It is important to stay humble and know your worth at the same time. It is a crazy industry and extremely demanding.
Who is your current favorite designer, and why?
This is a difficult question because there are so many designers that I currently admire. However, there is one designer that is a constant inspiration to me. It is the late Lee Alexander McQueen. Every single thing he has ever made inspired me in complete different ways. I struggled a lot with anxiety and depression growing up and used fashion as an escape. I completely engulfed myself in my work and separated myself from the world. McQueens was one of the most talented designers to ever walk on this planet… he showed me that the darkest moments can be portrayed as something beautiful. The shapes, textures, textiles, colors, set design, models…. Every collection told a story that made people feel all types of different emotions all at once.
Where did you come up with the name Pater Noster for your collection and what was your inspiration for your collection?
Pater Noster means our father in Latin. Since my collection was an inspiration between my own father and our other "father" (imposed by the Catholic religion) I decided to name the collection Pater Noster. My collection was a juxtaposition between the femininity seen in Catholic artwork and masculinity from motorsports. Living in Italy I was constantly inspired by the churches and artwork surrounding me but also by the stories. My father being a huge figure in my life also inspired me because he is a motorsport fanatic. I always wanted to follow in my father's footsteps of driving cars and motorcycles but being a girl I was always cast aside which caused a lot of problems in my life. The collection allowed me to put two inspirations together to create something that truly spoke to me and allow me to express some of my darkest feelings in a beautiful ethereal way.
What is something people would be surprised to learn about you?
I only shop Vintage… this is because I am truly obsessed and fascinated with clothing from the past. Instead of collecting art like paintings, sculptures and pictures, I collect vintage clothing because to me clothing is art. I could spend hours looking through racks and bins. I could almost immediately spot exactly which era a piece is from and who made it. I do not specifically at the moment have a favorite era, I am constantly inspired by several eras. I love watching historically referenced movies to see the costumes and environments surrounding them. I love reading history novels, looking at old portraits and paintings this is because it transports me to another realm and I could imagine exactly what I would have been doing in those moments. Also, you can no longer find reasonably priced items that are even close to the quality and structure of vintage garments. Clothing used to be created with more durable textiles and were stitched properly. Nowadays I can no longer shop anywhere because I automatically touch the fabric and look at the stitching inside garments and cannot believe how bad the quality is and how much it is being sold for.
What is the difference between the European fashion industry and the North-American fashion industry (in your opinion)?
From what I have personally seen, there is a huge difference. The North-American fashion industry is made up of smaller brands geared more towards fast fashion, a what's in what's now vision. Whereas the European fashion industry is higher fashion and geared towards a what's going to be in tomorrow vision. I do think the North-American industry is more reliant on social media and not willing to experiment as much as the European industry perhaps because sales will go down and companies cannot risk losing sales. It is unfortunate but I think you cannot compete with the craftsmanship the Europeans put forth. I think the North-American industry is falling behind and something needs to be done in order to not lose it completely. Also, people in Europe consider fashion to be a form of art and are willing to purchase items that are more expensive but that are made properly, with durable textiles and from a recognized artist/designer.
What can we look forward to the most coming from you?
In the near future, I would love to work for a high-end brand or in an Haute Couture atelier. This is because I am hungry to learn the ins and outs of the industry. I want to absorb as much information as possible and perfect my craft. After that I'd love to strategically open up something on my own. In the meantime, I will continue to create more collections and experiment on my own time. I will use the platform that I am given for free which is social media and I will post everything that I do there in order to get recognized and to show the world what I can offer.