Denzel Curry played his debut show in Montreal last night, and it was lit.
In case you are unfamiliar, Miami-area rapper Denzel Curry is well-known for his latest major-label debut TA13OO which has been taking the internet by storm lately. He balances rhymes packed with intense and introspective content and an evolving production palette that can draw upon hazy cloud rap and classic hip-hop songcraft.
L'Astral was the venue, and sold out was the show.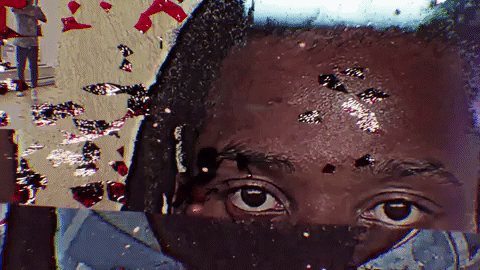 I arrived right before doors open, dressed in a long sleeve Bench crewneck and my no-sleeves black leather jacket ready to conquer this show. I met up with a few friends as we sipped on energized drinks and smoking what will be legal in a few weeks and walked into the venue as Kid Trunks was on stage setting the mood for the night right before Denzel came on.
As i walked in, I got a whiff of warm carbon-monoxide filled air as the venue was packed with kids from all sizes and ages jumping up and down as Kid Trunks dropped some XXXTentacion to reminisce the late rapper before he left the stage to make room for the main act.
I got myself a good spot, not too far from the stage with a good eye sight for what's to come.
I set my expectations high for the visuals, and was not disappointed to say the least. Starting off with a red curtain visual and ACT I written in big letters, the crowd went nuts cheering on "ULT" as the young rapper made his way on stage.
He came on and delivered a high energy show in the sweat-filled venue, getting everyone to create death wall mosh pits and shoving each other like it was the last night on earth… shit got serious real quick.
Although the visuals were very appealing, there seemed to be a theme going throughout the night. If you looked closely, you could see a slight narrative unravel throughout the different acts (especially the Encore) where Denzel Curry was featured in different "states of mind" which led me to my next question: "is this Illuminati confirmed?"
Each Act started off with red curtains opening, unraveling Denzel Curry's face in different states, which led me to look closer for other clues, which I found super interesting to say the least. Here's how I break it down for all of you:
Act I featured colourful visuals, a happy place, pink balloons, sunshine, greenery – the usual prelude to any thematics relating to occult imagery.
Act II featured less colourful visuals, more black and white checkered thematics, trippy clowns.
Act III got more sinister: bloody visuals, imprisonment, the vibes that are usually associated with sacrifice.
Now the Encore was where I was able to confirm the Illuminati thematics, leading to a curtain opening to the face of Denzel Curry revived as a demon, eyes flaring with fire and explosives all around.
I took the chance and leaped into the mosh pit by Act III, letting myself go as I was pushed, shoved, punched into, not realizing that I wasn't ready for it (anyways who's ever ready for these things?) – and about 5 minutes in, I realized that I was actually sweating my neck and ass off wearing my Bench long sleeve and jacket as half of the people around me were either shirtless or drenched in their own sweat.
It was disgusting, yet fun to dwelve through the feeling of the melodic beats as Denzel delivered a seamless electrifying performance throughout, thanking the Montreal crowd for being as lit as we were.
This is definitely a strong debut for the young rapper and will definitely have a bright future ahead of him.
Stop sleeping on Denzel Curry.